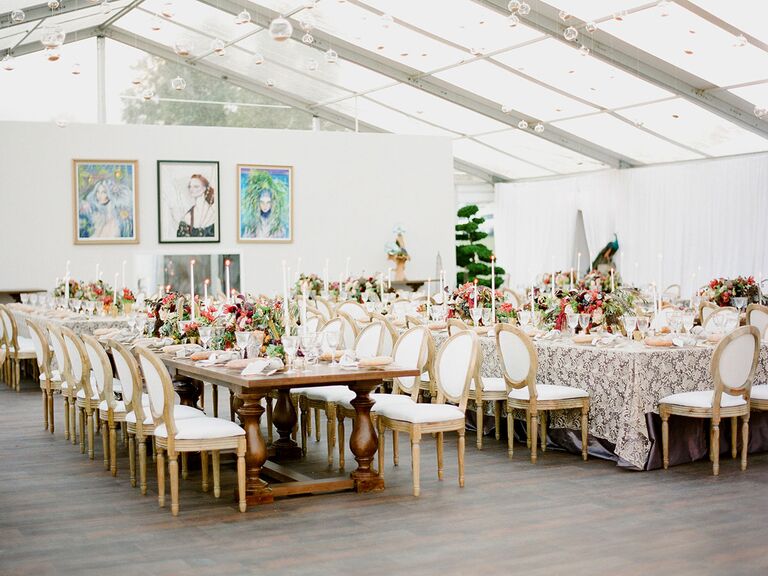 Photo by
Lacie Hansen Photography
Other than that just-right feeling of finding "the one," there are several things you should look for in a wedding reception site. First, if you haven't already, head to The Knot Venue Concierge, where all you have to do is tell us what you're looking for in terms of budget, guest list and style, and we'll help you with the rest of the details, like scheduling tours and, later, booking your venue. Here are some helpful tips to help you narrow down your list.
A Roomy Fit
It sounds obvious but make sure the room is large enough to accommodate the number of people on your guest list. The site may look enormous when it's empty, but wedding essentials—tables, chairs, a buffet, bar, the band or DJ setup, the dance floor—will fill it quickly. Not to mention your guests will need some elbow room. Even if you choose an outdoor site, you'll need ample space on the lawn, in the arboretum or poolside. The best way to assess the size of a site is to go see it when another wedding (with an equivalent guest list size) is all set up. On the other hand, if you decide that a special site, like your favorite bar or your parents' garden where you got engaged, is the only place you want to celebrate, you can always work backward and tailor your guest list to match the venue.
Eating, Drinking and Partying Areas
There should be logical places within the venue where guests can eat, drink, mingle and dance. When you're standing in the space, try to envision where each activity would happen (especially if your ceremony will also be there). If a room is too small to separate into sections accordingly, you'll probably feel cramped. If it has an odd configuration, like it's shaped like an S, that could compromise your party's flow as well. Also, note the locations of columns or other obstructions in the room—will they block your guests' views of the dance floor or the cake table?
Privacy
Privacy varies widely by venue, as does the importance couples place on it. If you're having a daytime event in a public spot, such as a park, beach or botanical garden, be prepared for strangers to trek past your party. They may even smile, wave and come by to offer their well wishes. If this is okay with you, go for it. If not, opt for a lawn on a private estate or golf course.
Remember, this caveat isn't just for outdoor weddings. Banquet halls and hotels often hold more than one affair at a time. If there'll be other events going on simultaneously in rooms close to yours, you may hear karaoke-loving guests belting Madonna through the walls or guests may meet them over the hot-air dryers in the bathroom. If this bothers you, try to schedule your wedding when there won't be another one next door. If that's impossible, visit the site on a dual-party night and see how the sound carries and whether there really are any major problems before you make a decision. Or you could hold the reception at a restaurant or gallery that will allow you to rent it out so your party is guests only. Ask about available security at your site to keep wedding crashers at bay.
Lighting
Light can make—or break—the mood and space. If you're marrying during the day, double-check that your hall has plenty of windows. Who wants to spend six hours in a dark room when the sun is shining? If it's an evening affair, make sure the room's not too dim—or that the lighting can be controlled for the big entrance, dinner and dancing. If you're marrying outdoors, say, at dusk, will you be able to set up candles if necessary?
Visit the site at the same time of day you've chosen for your wedding. Even if the space looks romantic by candlelight, you may be surprised by the sight of that outdated carpet during the day. If you only check it out in the evening, you'll also miss a chance to see how the sunlight streaming through floor-to-ceiling windows completely transforms the room.
A Great View
What will your guests see when they walk into the room? Whether it's your city skyline, a stunning vista of rolling mountains or crashing waves, exceptional locations with a view are always a plus. If there's no view per se, look to a place's décor or architectural details. Artwork on the walls, fine Persian rugs on the floors, period furniture in the corners or an amazing crystal chandelier as the room's centerpiece all give your reception site that something extra.
The Proper Palette
If you're considering a certain theme and color palette for your party, make sure the site's existing, nonremovable décor doesn't clash with your vision. The venue doesn't have to be done in the exact colors as your planned decorations, but the walls, carpets, chairs and curtains shouldn't drastically conflict with your party's mood or theme. If you want a spring wedding brunch, a space with pastel colors or floral motifs would be a perfect fit. For a classic wedding, consider an elegant room done in neutrals or black and white.
Ample Outlets
Do a thorough check around the room for plenty of power outlets—especially if you're partying in a place that's doesn't usually host weddings. You'll want to make sure that your entertainment crew has all the power they need to keep the party going. This means taking note of all the electrical outlets in your reception area and supplying them with more than enough extension cords that they can use safely.
Good Acoustics
If the place is too echoey, it could give some weird reverb to the band, not to mention make it difficult for guests to hear one another talking. A tile or wood floor will amplify sounds while a thick carpet will tend to muffle them. Check out the room's sound quality during an event and tailor your music to the venue. A jazz combo will sound better at an intimate art gallery than a 14-piece orchestra would (not to mention the fact that it takes up less floor space).
Plenty of Parking
Make sure the site is near a good parking lot, garage or big, empty street where it's legal (and safe) to park. If parking is a problem, look for other ways to get everyone to the party. Can a shuttle bus or vans take guests from the ceremony to the reception? Inadequate parking isn't necessarily a deal breaker, but it may mean spending more time and money to figure out a viable transportation alternative.
Plan B
While you might not even want to think about rain putting a damper on your outdoor wedding, you can't look at venues without considering an alternative plan of action should Mother Nature have other ideas. Figure out if there's an indoor space you can use should the weather turn, or if there's an option to set up an outdoor tent if your heart is set on an open-air celebration.